Submitted by: Mark Caine on Jan 02, 2022

We first connected with Sherry in fall 2020, and after several informative and enjoyable phone conversations we put ourselves on the waitlist for a Winterborn puppy. We are so happy that we did: as of November 2021 we have received our puppy, who has – along with Sherry and the Winterborn team – exceeded our expectations in every possible way.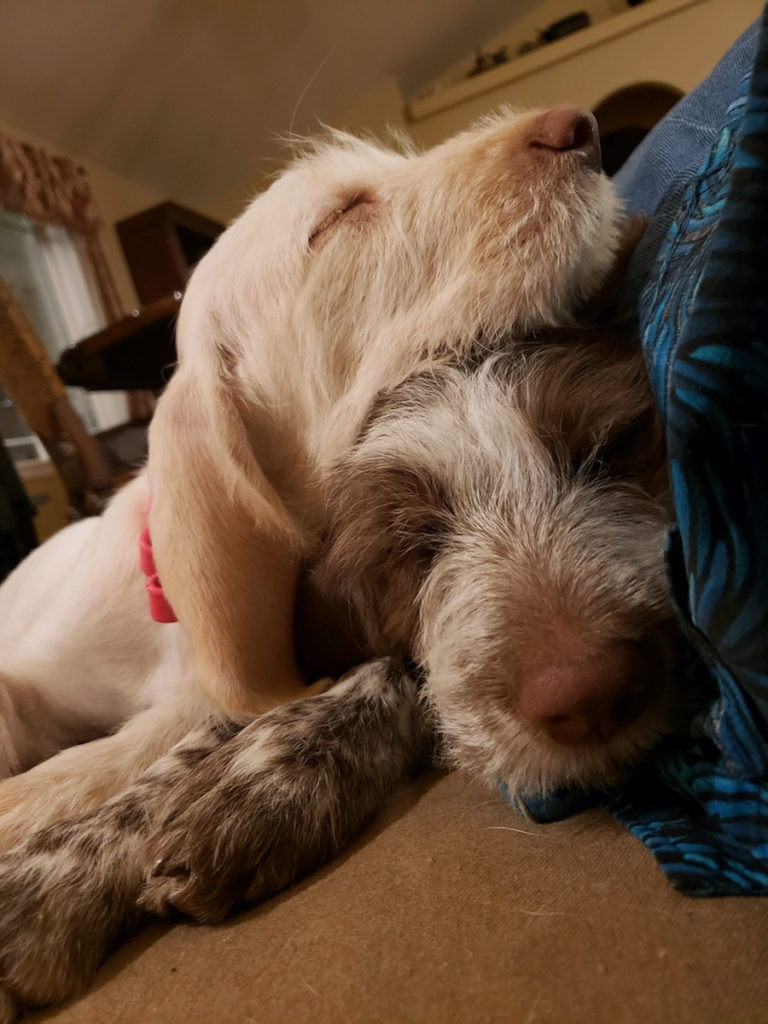 Submitted by: Charles Rimpila on Nov 28, 2021

I recently received a puppy (Ella) from Sherry and her family and I have to say it's been an amazing experience. They are professional and very sincere in their methods of raising the pups and providing a wonderful environment for them to grow. The information that they also provided was outstanding. Ella is so well behaved, even for a 3month old. She's potty trained, crate trained and also the sweetest dog I've ever met. I couldn't be more happy with Sherry and her team. I highly recommend them if you are serious about Spinone!
Submitted by: Ryan Berube on Aug 30, 2021

Sherry and her family exceeded all expectations. We had been talking to her for several years, and after putting a deposit down for a litter last year, our living circumstances prevented us from feeling confident that it was the right time. Her understanding and flexibility stood out. Winterborn Spinone's care for our puppy was SO impressive. We are happy beyond measure with our brown roan boy (Frank! We're in love!). Sherry set us up for success, and her respect and dedication to the breed should be where the standard is set.
Submitted by: Joe Sloan on Jan 23, 2019

We picked up Willie (from the Jewels litter) on Jan. 5th. Sherry was a complete professional throughout the entire puppy buying process. She proactively communicates, provides extensive training resources and is very knowledgeable about Spinones. She takes great care to deliver a healthy and well socialized puppy. We couldn't be happier with our choice!
Submitted by: Dina Jadallah on Nov 07, 2020

Since puppyhood is joyous and wonderous, but fleeting, I thought it might be helpful to write an updated review that addresses how our ten-month-old Winterborn puppy, Lucrezia from the Kings and Queens litter has matured…. with every passing month, Sherry's exemplary work as a breeder and as a resource on all things spinone becomes more apparent… and deeply appreciated. Winterborn Spinone is impressive in every way. Sherry has been wonderful and invaluable, generously sharing her vast knowledge with us whenever we reached out with a question. Our puppy has exceeded all our expectations. We couldn't be more grateful to the Durst family for breeding marvelous spinoni that are incredibly sweet, intelligent, sensitive, beautiful and eager to please.

Read More
Submitted by: Dina Jadallah & Gene Flood on Mar 12, 2020
Sherry Durst and her family deserve all the respect and the highest praise and commendations. I cannot recommend Winterborn Spinone highly enough! Sherry is simply extraordinary – being both an outstanding breeder as well as a wonderful person who is a pleasure to know. Her Winterborn Spinone have exceptional beauty, conformation, and temperaments.
My husband and I waited a long time to get one of Sherry's puppies. It was worth every minute! We were looking for an easy-going, smart Spinone who would be a family companion and running partner. We got our darling Lucrezia from the Kings and Queens (Emperors and Empresses) litter one week ago and think she's spectacular!
Read More
Submitted by: Jay Arana on Jan 13, 2019
Exceptional experience from start to finish. Sherry has a firm grasp on every detail of the process starting with the questionnaire to fit you with the right puppy. Excellent communication throughout the process with lots of videos of the pups, information packets, training resources etc. These are beautiful dogs as well as pre-trained (housebroken and basic commands) and very smart for such a young age. Careful selection of bloodline has paid off and Winterborn provides you with the ideal Spin. This is our second Spinone and Luca is a wonderful addition to our family. I would highly recommend using Winterborn if you are a lover of this special breed.
Submitted by: Leah Bray on Jan 05, 2019

Sherry is an amazing breeder, and we couldn't be happier with our Spinone Italiano puppy from the Jewels litter. Freya is a wonderful puppy. We picked her up at 8 weeks old, and we have had her about a week. She was already socialized enough that she bonded with my husband and I very quickly. The pre-potty training work done at Winterborn is excellent, Freya preferred to go potty outside right when we got her, and she has had very few accidents. She is learning how to tell us that she needs to go outside. The crate training work done at Winterborn is also excellent. Freya was sleeping in her crate without issue right from the get-go. She is healthy, strong and has a lovely temperament. We are very pleased with our choice to purchase a puppy from Sherry at Winterborn Spinone.
Submitted by: Amanda Garrett on Jan 01, 2019

I could write a book about this breeder. Sherry and family are absolutely the best breeder we could hope for. The puppies received 24 hour love and training inside their home. Our puppy knows simple commands, has had only one potty accident in the house (completely our fault) and has polite manners. We are not hunters, but big lovers of dogs of any kind. We typically rescue adult dogs, but decided to contact Winterborn after an encounter with a Spinone at Home Depot. He even knew his name when we got him. The pups are raised around household noises and music and singing, but in such a fun, professional manner. They can not help but be sweet, well adjusted puppies. Belushi is very gentle and loving, and became attached within 30 minutes of meeting us. One last note: the communication was consistent and thorough from the day we found out the due date. We even got ultra sound photos! Thanks to the entire Winterborn crew, especially Sherry!
Submitted by: Allison Gosnell on Sep 14, 2017

Starting my search for a breeder for a Spinone, I was very lucky to find Sherry's Winterborn Spinone early on. Right away I had a good feeling about them from their detailed website and numerous youtube videos showcasing smart, beautiful spins. From start to finish Sherry was fantastic and great to work with. We ended up waiting a year for our puppy, as we had our hearts set on a brown roan boy. Sherry sent loads of pictures and video updates through it all, as well as numerous phone conversations with updates on our puppy (and even was willing and happy to continue phone conversations into ownership).
Read More
Submitted by: Christina on Dec 08, 2018

We picked up Otter in October of 2018. Sherry provided a tremendous amount of information from the time we first reached out, to when he was born, to when we picked him and beyond. Otter was a complete trooper through three airports. Once we had him home, the work Sherry and her family puts into their puppies was obvious. He was well adjusted, settled right into his crate and was quickly doing all his business outside. Couldn't be happier with our new pup and experience with Winterborn.
Submitted by: Jordana & George Hale on Nov 14, 2017

I'm not sure where to start. I was just inquiring about the available "orange girl" Spinone pup one day and then picking the precious pup up one week later from the airport. Sherry was simply amazing to work with, making this transition as easy as possible for all involved. The information she provided throughout the process was invaluable and it was obvious that she absolutely loves this amazing breed. And by the way, our sweet pup is incredible. Tessa is absolutely beautiful and she has personality plus! She is smart and totally "birdie". We are planning to use her to hunt and from what we see so far, we think she is a true natural. We could not be more pleased with our new addition, and we HIGHLY recommend Winterborn breeders if you are considering an Italian Spinone.
Submitted by: Polly on Sep 13, 2017

Sherry at Winterborn is a passionate & professional dog breeder. You can tell she loves what she does, adores this breed and each and every puppy. She was patient and kind with all of my questions and concerns. She handled the logistics of flying our puppy all the way across the country to us. We picked up the sweetest, most cuddly, loving puppy anyone could ever ask for. She was already well on her way to being housebroken and is already quite well socialized. I cannot recommend Sherry and Winterborn highly enough!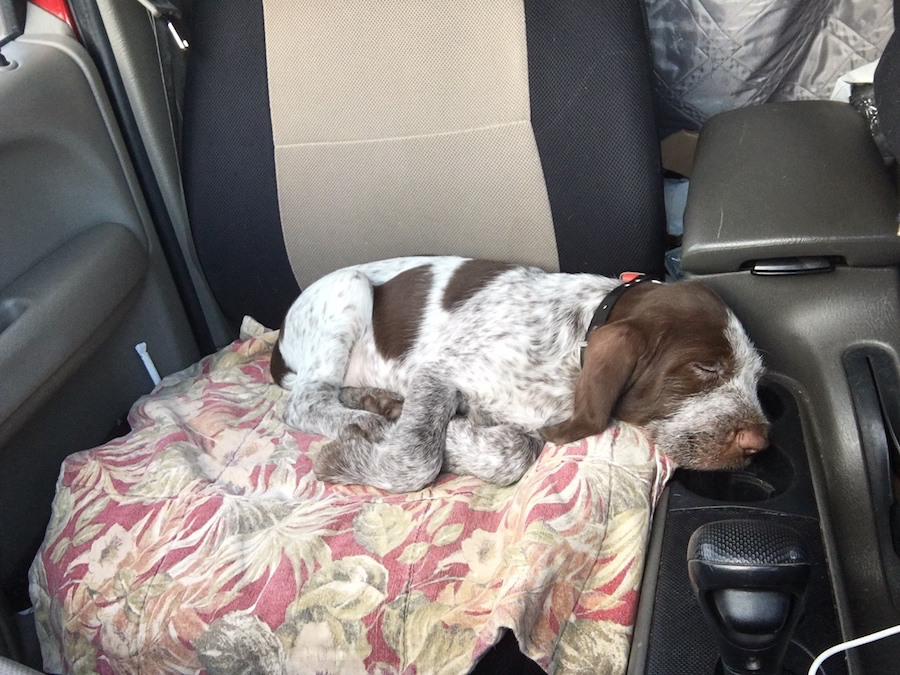 Submitted by: Jess Williams on Sep 11, 2017

Sherry at Winterborn has been absolutely wonderful to deal with. I did extensive research on breeders and I do not regret my decision to go with her. She put a lot of work into matching us to our puppy and she was spot on. She is not your average breeder she puts all her efforts into these wonderful dogs and it shows. I can't say enough good things about her and the dogs they have. Top notch.
Submitted by: Heather Georges on May 04, 2017

I cannot say enough good things about Sherry and Winterbourne. She is an extremely knowledgeable and caring breeder who is very focused on providing the best match between pup and owner. Our little Tino is a love and adapting well to his new home. Thank you Sherry for your hard work and dedication to the breed and your owners!!
Submitted by: Dr. Jk on Apr 30, 2017

Superior caring passionate breeder. I am lucky that I contacted Sherry by simple chance. She is rare find. An absolute positive experience. Ya can tell I love my pooch Boone (spinone Italiano, 10 weeks old).
Submitted by: Pamela Smith on Apr 30, 2017
I took a lot of time researching breeders before I chose Sherry's Winterborn Spinone. My research more than paid off in getting a puppy that is one of the smartest, sweetest, and beautiful puppies I have ever had or seen. Sherry and her family spend a lot of time with their puppies and ours came to us kennel trained, started with potty training, and does not bite or jump. She knew her name, comes to us when called, then sits looking up at us with those Spinone eyes. This all has made for the easiest transition for both our puppy and us.
Sherry also provided us with regular updates, photos, and videos. She also takes time observing each puppy to help place puppies with traits that match with what we are looking for.
I was looking for a puppy that I could train as a therapy dog to work with me working with homeless Veterans. Our new girl had been socialized in a way that has already made this very easy. She is very sweet, friendly, polite, and has already demonstrating the exact behaviors I had hoped for. Thank you for this amazing, almost human puppy. I can't express enough how appreciative I am for the time and effort put into ensuring that we get a healthy, beautiful, and perfect new member of our family.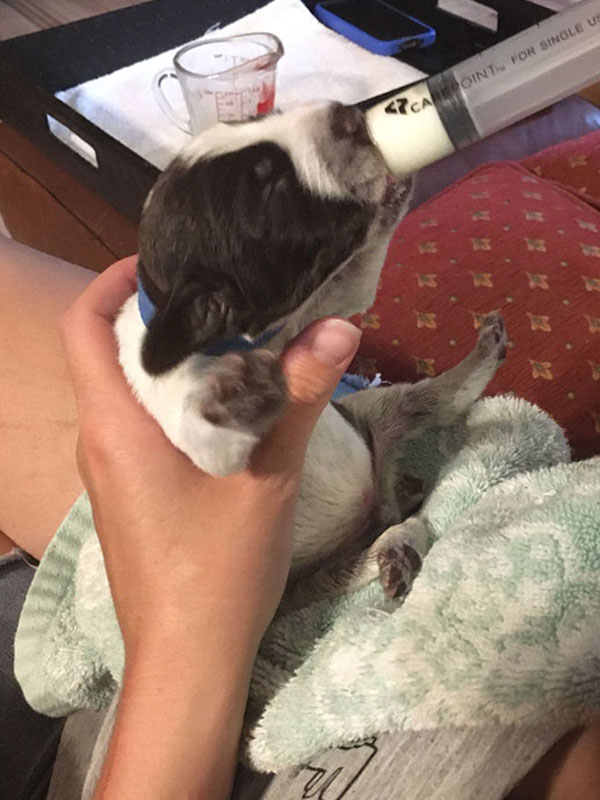 Submitted by: Mark and Gayle Lam on Apr 15, 2017

Currently we are on day 2 of our adventure with our puppy from Sherry and Winterborn Spinone. This was a new experience for us…purchasing a dog from a breeder we had not met and a breed we knew very little about. After having 2 Belgian Malinois, one a police dog, we wanted a different face + personality and fell in love with the Spinone! Sherry is so knowledgeable, a true expert in this breed. Our little girl is very well socialized because of the loving home Sherry's puppies are raised in and she already knows several commands at 9 weeks! Her attention and discipline to send picture and video updates regularly is something that was such a bonus and helped us in what seemed like an eternity while waiting for our new family member. I would also like to add her matchmaking skills are second to none. Our criteria for a puppy mostly focused on having a "buddy" for hiking, fishing, and running but we also wanted a dog with curiosity, a sense of humor and can travel. This little girl is all of this and more! We were so lucky to find Sherry.
Submitted by: Kay Comiskey on Apr 18, 2017

Sherry and her team do an amazing job with these puppies to get them ready to go home. Our little boy from the Gunslinger litter is so well mannered. He was 90% potty trained when he came home to us at 8 1/2 weeks, and crate trained as well. He is calm, cuddly and adventurous. Sherry matches you with the perfect puppy after talking to you and figuring out what puppy makes sense for you. She also makes sure your puppy is ready to go out into the big world! What more could you ask??
Submitted by: Art Malisani on May 02, 2016

We can't say enough about Sherry and Winterborn Spinone. Our experience could not have been better. She listened to us and picked out the perfect puppy for us – twice. She is a very caring and understanding breeder with great knowledge of the Spinone breed. Our Orsino was a goofy and majestic boy with great hunting aspect. Our Gia is a beautiful playful little girl who loves to fetch and also has great hunting instincts. These dogs are fabulous, well adjusted, and a great companion. You won't be sorry with Winterborn Spinone! Thank you, Sherry!!!
Submitted by: JoAnn Miller on Mar 27, 2016

Sherry is the best breeder we have ever dealt with. The puppies and their mom's are so well taken care of. Sherry gives the best information and websites included for caring for the dogs once you take ownership. She keeps you informed of the development of the puppies from pregnancy to birth. We waited a year and a half for a puppy from Sherry. I flew to pick up Amber and everyone that met her in the plane and airport could not believe what a relaxed well behaved puppy she was.
Submitted by: Michele Puiggari on Sep 16, 2015

Dealing with Winterborn is a joy! The process was easy and Sherry did everything possible to address our needs and answer our questions. We were able to arrange to visit when the puppies were 4 weeks old. All the puppies were wonderful and had great personalities. We picked up our girl at 8 weeks. She is healthy, happy and well adjusted. I would highly recommend this breeder to anyone.
Submitted by: Matt and Paula Williams on Sep 16, 2015

Winterborn was really wonderful to work with. Sherry made our search for a calm therapy temperament Spinone very easy. Throughout the process she was a wealth of information and ultimately made sure we brought home a puppy that was a perfect match for our family. Beautiful Spinones.
Thank you Sherry and the Winterborn team!
Submitted by: Jennifer and Gavin Clark on Sep 07, 2015

We love our girl Zita, she is exactly what we expected! Sherry and Wintrborn Spinone are wonderful to work with, from our first contact to pick up. They truly love this bred, We got so much information and support during the process. There was always photos, videos and phone calls to make sure Zita was a good fit for us. We can't say enough about Winterborn! We look forward to getting another Spinone from them!!
Submitted by: Susan Barratt on May 17, 2015

My Teddy boy has been home for 2 weeks, he is a funny, floppy character who came with a very solid background. He is confident, playful and highly trainable. Sherry has provided a fantastic groundwork from which to build. He actually knew Go Potty when he arrived, as well as a good notion of retrieving. He is my love with a big wet maw!
Submitted by: Heather on May 11, 2015

An overall wonderful experience in acquiring our Spinone puppy! From start to finish Sherry and Winterborn Spinone were fantastic and easy to work with. Lots of pictures and video, as well as phone conversation updates on our puppy. After bringing our Spinone puppy home, it is evident all the time and effort that Sherry and Winterborn put into their dogs and breeding program. Our puppy is well ahead of adjusted life in and outside of the home. (ie Crate training, potty training, socializing) Wonderful breed! We are extremely happy with our choice of Winterborn Spinone and would choose them again in a heartbeat! Very helpful and knowledgeable as well.
Submitted by: Lane Phillips on Feb 13, 2015

As a fellow breeder, Sherry was great to work with. Sherry did everything she said she would do and in a timely manner. She is a happy, considerate and easy person to deal with. She spends a lot of her time and energy with her dogs and her breeding ventures. She, like the few other spinone breeders that I know and work with, has acquired and developed the best dogs she can and tries to give the world a healthier and better specimen of the Spinone breed.
Submitted by: J. Maguire on Oct 14, 2014

Sherry was terrific! She spent an incredible amount of time sending pictures , emails and phone conversations describing the puppy and making sure we were a good fit. The purchase was tedious due to my situation and she was more than accommodating and took care of every detail with flying colors.

Foli is an amazing dog and much of that is attributed to Sherry's care of her animals and paying particular attention to their integration into the home.
Submitted by: Tom on Jul 20, 2014

Sherry and her loving, and deep knowledge of the Spinone Italiano breed is what led us to her and kept us with her! She is a pleasure to work with and made the process of buying a dog from across the country an easy adventure. She sent us videos and kept us up to date on his growth so we knew how our little guy was doing along the way.

Lastly, her matchmaking skills are superb! We love our Birdman. And can't wait for number 2. 🙂
Submitted by: Scott Keefer on May 14, 2014

Breeder communicated extensively birth through delivery to buyer. Puppy fully complies with written description of the breed. Highly recommended.
Submitted by: Bob & Kim Goodwine on Apr 27, 2014

We recently purchased our first Spinone from Winterborn Spinone and could not be happier with the entire experience. We did a lot of research on the breed and breeders prior to deciding to go with Winterborn and Sherry exceeded all of our expectations. The care and attention that Sherry shows to her dogs is exemplary…it is very much a passion and not something she is doing to make a profit. She cares very much about the Spinone breed and is respectful of what it takes to produce quality dogs. Since Winterborn is a small kennel, all of the puppies receive an amazing amount of personal attention. Before you even get your puppy, Sherry and her family have begun the potty training process for you and all of the puppies are used to being handled and worked with. We have always had dogs and this puppy experience has been our easiest. Our Rocco is smart as a whip and his affable personality is a delight. He is the most unflappable puppy I have ever met which is saying a lot since we have always had Goldens which are pretty mellow by nature. If you are looking for a dog from champion lines, but want a more personal experience than some of larger kennels can offer, Winterborn Spinone will be your perfect fit.